Artistic Night – Wedding Photography using Flash
This post has two purposes. First, I want to talk about doing an artistic shot to end your wedding day. Second, I want to talk about this shot in particular.
When we shoot a wedding we spend almost all day with the bride and groom. It is a very exciting day to share with someone. You become very close to these people. You learn a lot about them. You have a very special bond that honestly lasts a lifetime. You spend more time with the bride and groom than any other person on a wedding day. So after 8-11 hours of being nearly inseparable, we feel a certain sadness saying goodbye. It's not as though we are never going to see them again, but you are saying goodnight to a person who is very likely having one of the best nights of their lives.
Jamie and I have tried to butt in on the dancefloor to say goodnight and sometimes that's what we have to do. However, we much prefer to take one last artistic shot to put an exclamation point on the evening. It's also usually taken somewhere quiet where we can thank them for choosing us, congratulate them on this new chapter of life and say a proper goodbye.
Now, we acknowledge that it is hard to get a bride and groom away from the party. You definitely don't want to steal them away for long. We always talk to the B/G beforehand about the idea of doing an artistic shot around 8-10 p.m. depending on the schedule. We don't push it. So, when it is about time for this goodnight shot, we make sure we are prepared. We make sure we've torn down everything and got our bags together. We know we have all the shots we need, this last one would just be a bonus. The two of us begin to scope out the area looking for neat opportunities.
If you are going to do something artistic at the end of the night, be sure to make it fast for the sake of the bride and groom.
We have not yet pulled the B/G off the dance floor. For these night shots, sometimes we will use flash, video light, or natural. It's different every time so I can't speak to what we are looking for. Once we do find the 'spot', we do some test shots. One of us is a stand-in. This allows us to get everything setup to minimize the time we have to steal the bride and groom away from the party. In the example below, I was using two flashes. One behind and one in front. Then I decided that the background was too flat, so I added a third remote flash to uplight the treed and buildings behind. (shown in the second photo.) Sorry to my wife, she had no idea I was going to use these two frames and she told me she hated the way she looked. I think she looks cute, a little deer-in-headlights, but cute. Pabst Photo has more Before and after Wedding Photography and photography tips if you'd like to see more.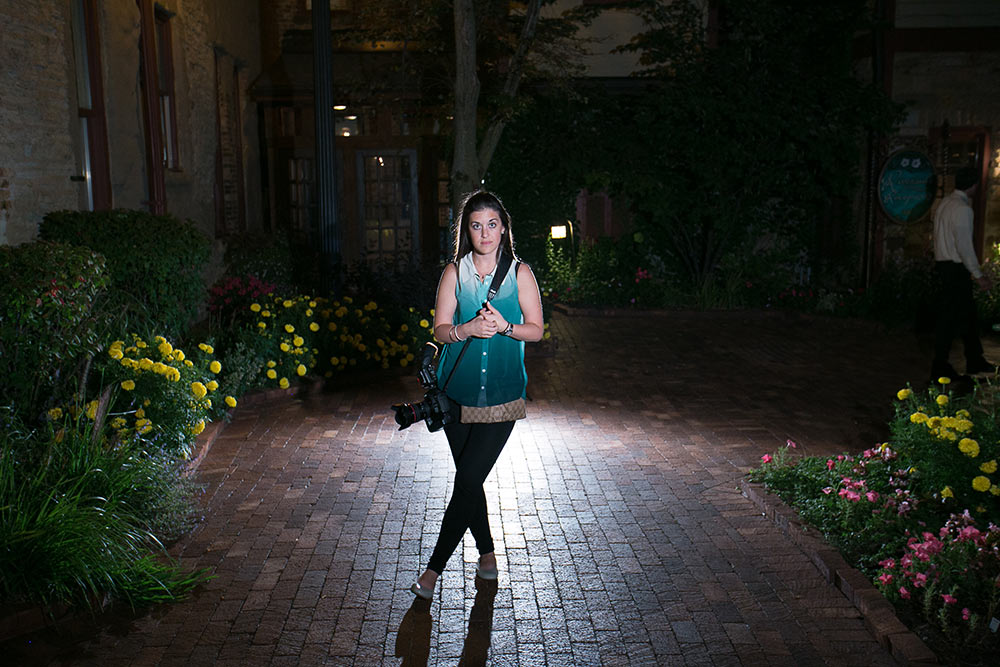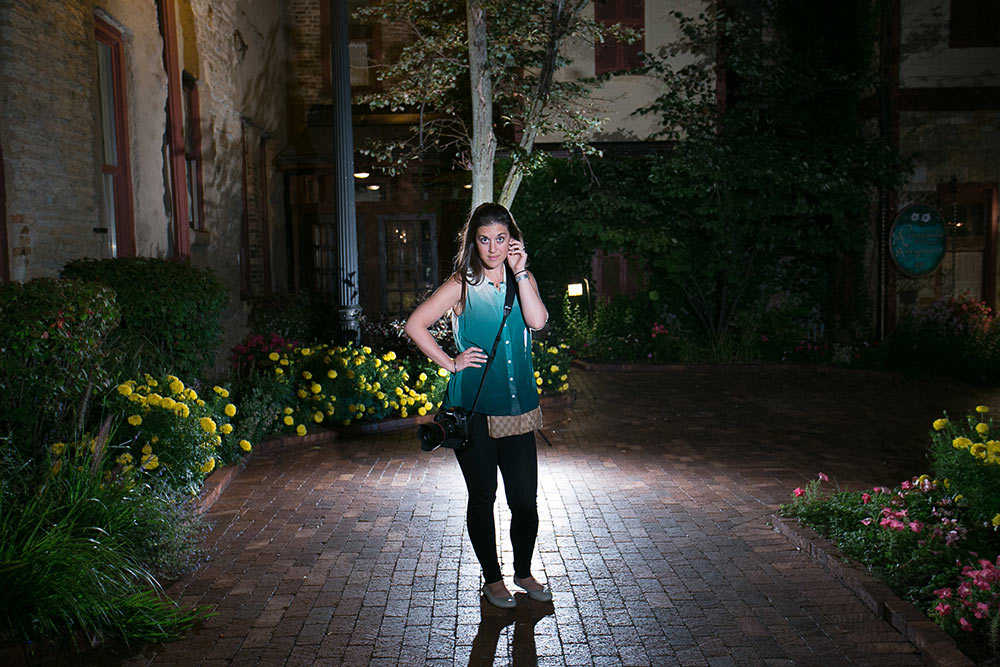 Below are two additional final wedding night photographs.