I have been using Bitcasa Infinite Storage for a couple days and will give my initial thoughts below.
I am coming at this post from the perspective of a photographer, but anyone with hundreds of gigabytes of data will hopefully find this post helpful. I'd love to keep every RAW image I've ever taken in case I want to go back and edit it differently or get back to a color version that I have since made black and white but at some point we all need to stop being digital babies and E-HOARDERS. Commit to an image; like the great photographers before you. My first recommendation to anyone who is ready to take the leap into getting serious about digital backup–you have to have a hierarchy of data importance. Not every photo or video can be equal. The photo of your sons first steps cannot be cared for the same as the video from the gopro on your helmet capturing you skiing last weekend. At some point we have to decide what data needs multiple redundancy and what doesn't. So, sure, you might want two copies of that image you took of your newborn; one on your NAS and one on the cloud in JPEG. The RAW image however might be on an external HDD and shoved in a drawer labeled YEAR 2009. We have to accept that we will likely never need that RAW image again. Once we realize that, we can more easily accept that in the year 2020 when we take that HDD out of the drawer, it might not work.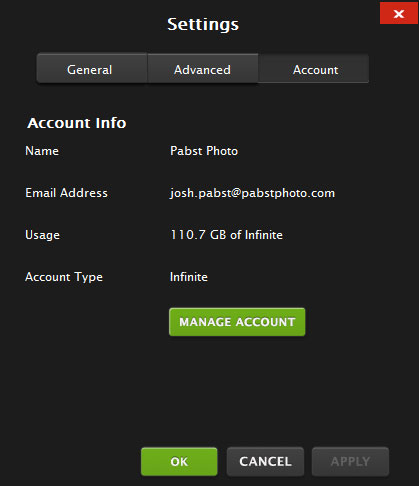 UPDATE: I have been uploading on an extremely fast internet connection (speedtest.net at 10mb/sec upload) for about two weeks now and have successfully uploaded 110gb. Will this service be fast enough for you? After these two weeks, I think I will continue to use the service, just not how I initially planned. It is simply too slow to upload the amount of data I want to upload. That said, I do think it's realistic to upload your high value content for extra security. Perhaps 100gb per year would be very realistic. Trying to push the past ten years up to the cloud however is simply not possible. UPDATE 6-11-2013 – I now have 550gb stored on Bitcasa. I have learned that I prefer to manage my own CACHE and leave it to about 4gb otherwise it eats my RAM and baloons to 30-40gb at a time and I can't use Bitcasa in a helpful way because I can't control the que. So if I wanted to drop a file into the drive – it might not be there for a couple weeks if my que is full of 30gb ahead of that file I want.
I have to give you all an idea about what our setup is like at Pabst Photo before I can go foward. Jamie and I primarily work off of our NAS/RAID drive. We have a Synology drive running in Hybrid Raid mode; it has 4x3tb(WD RED) Hard Drives inside ~ and that gives us approximately 8 Terabytes of space with single disc allowable failure. In short, the idea is that any single hard drive can fail and no data would be lost. However, as anyone familiar with RAID knows, it's not a backup solution and you can lose everything. A RAID controller could fail or two drives could fail together, or lightning could fry all four. As such, I wasn't entirely sure what to do about that. Do I buy hard disks to back up my RAID hard disks? That seems ridiculous, and we are a mom+pop outfit, so I can't be backing up to tape and so forth.
We Needed Cheap and Easy, Bitcasa is a great solution if you don't mind waiting a couple months for everything to be up to date and in sync. If you are just starting out and don't have terabytes of data that need to go up to the cloud, then Bitcasa may be a great solution for you. If you have less than 25gb of data you need stored then I would recommend sticking with Google Drive, Skydrive, or Dropbox. The scary part of Bitcasa is wondering whether it will be around two years from now.
Moreover, if I simply backup the NAS to an external HDD; what if there is a fire. This is when I started considering the Cloud. I've been using Skydrive for years to copy low resolution versions of all my JPEGs. The idea of storing my full resolution data in the cloud is appealing. It is inherently unaffected by a fire or flood. It doesn't care what I do locally. On the downside, uploading that amount of data to the cloud is intense. And should I lose everything, downloading that amount of data is equally painful.

There must be a better way. I'm not saying Bitcasa is it. Storage, truly protected storage, is still just a system of band-aids, none of which can be trusted on their own. It is still that way unfortunately. We, as photographers and videographers, simply deal with too much data. There is no way around it. It's super frustrating. Gives me nightmares. Not really, but it will stress you out. The thought of catastrophic loss. As a professional Wedding Photographer, it is my responsibility to protect the assets for my clients. It is something I take very seriously.
As I said, my first line of defence is leaving the images on the CF/SD cards until the next wedding. We copy rather than cut our images onto the RAID/NAS drive. Now the images exist in two places. The NAS inherintly adds some stability to the storage offering single drive failure; but once the images are deleted from the cards the images only exist in one place. This is a scary proposition. Finally, this is where the Infinite Drive comes into play. That is what Bitcasa calls their drive.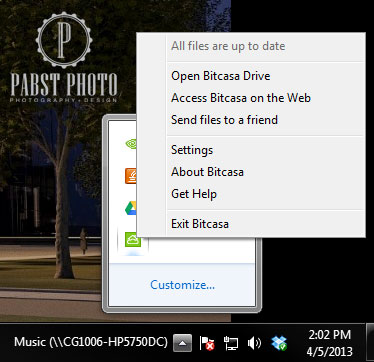 Above you can see the way the drive looks. Infinitely large. I'm pretty sure 7.99EB is the maximum amount of space that Windows will display. Setup is extremely easy; install the desktop client and a new drive letter (J:/ in my case) is automatically created. The infinite drive acts just like a normal drive. When you copy a file or folder to the drive uploading starts in the background. Keep in mind that Bitcasa uses a cache system. So it will show our file there rather quickly, but it really is temporarily being stored in hidden folders on your C: drive. So even though that 100mb .psd file copied in five seconds, if you were turn off your machine right away, it would not yet be backed up to the cloud. So it's good to check the bitcasa client to see how much uploading is left. Another nice feature built into the Windows Client is the ability to right mouse click any file on your computer and get Bitcasa options; 1. Send this to friend, 2. Copy this to Bitcasa | If it's a folder, you will see the option to 3. Mirror this folder to Bitcasa and 4. Stop Mirroring.
I will say that I have successfully uploaded 90GB in less than 5 days. I think that's pretty fantastic. I get an average upload speed of 1.1mb/sec – that's not lighting fast and my network is capable of five times that, so we must be getting slowed down on the other end. I also noticed that a lot of the files seem to be headed to AMAZON storage servers. I don't know how Bitcasa manages their content and to be honest I don't really care so long as it's there when I need it. The unlimited version is currently running around 8 dollars per month. That's insanely cheap if you have lots of data like we do. I haven't had to rely on the service yet, and honestly hope I never have to. Bitcasa to me is a lot like insurance. It gives me some comfort to know that I have it there, but I hope I never have to use it. I also hope that if I do need to use it, I will be covered; but just like your home insurance, even when you have it, those sneaky fellas may find a way to let you down. Only time will tell. But up until now, I can't give the software anything but high marks. As a wedding photographer, I have to constantly look for ways to protect my data in cost effective ways – and this might actually be a long term solution.