The Nifty Fifty : Canon 50mm 1.8 vs Canon 50mm 1.4
When comparing these two lenses, I don't think it matters whether or not you are using a full-frame camera or a crop-sensor camera. So we're past that. Now let's look at the two lenses a little more closely.First of all we have to recognize that there is a 300 dollar difference. In terms of the cost of lenses, that's really not a whole lot. But, every photographer has a different budget and different needs. It might seem that if money was no object that the canon 50mm 1.4 would be the clear choice, but that is not the case. Not to ruin the suprise, but I love the Canon 50mm f/1.8 – Example Photos I have taken.
A Look at the Canon 50mm f/1.8
The good news is that this affordable little lens is awesome optically. In fact, it is better than almost all other Canon lenses at all price points. The 50mm is an awesome lens on a full frame camera and has nice width. On a crop sensor camera it really falls into the short tele length. This lens has super sharp focus and excels in low light. I find this lens to outperform the 50mm f/1.4 giving a more accurate focus–even in low light. The down side of this lens is that in order to manually focus you have to flip the focus switch and the AF is noisy. You cannot just grab it and go. Additionally, the lens is pretty much all plastic, including the mount. It's not a bad thing. It makes the lens extremely light and so long as you treat the lens with care you will be extremely happy with it.
A Look at the Canon 50mm f/1.4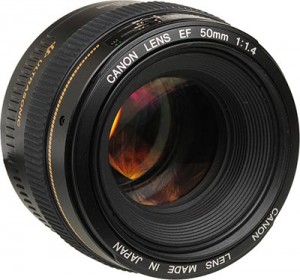 The 50mm f/1.4 USM is kind of considered a workhorse.  If you are consistently shooting in low light with no additional light then you might need one of these in order to keep your Camera ISO as low as possible. If you are shooting weddings and things that move and you are adverse to flashes this lens will far outperform a lens that shoots at f/2.8. Just to mention, the 50mm f/1.2 L won't really be any different. It will be heavier, more expensive, and focus inconsistently. Don't bother. It's much more expensive because it's much harder to make, not because it's better.
50mm f/1.8 vs 50mm f/1.4
If you are shooting in low light, then yeah, you might want to spend the extra cash, otherwise you might just be stuck with a lens searching, scanning focus back and forth and never finding its target. This lens lineup comparison is not as easy as some lens comparisons. On the plus side, you truly cannot go wrong purchasing the 50mm f/1.8. If you can't decide just get the 50mm f/1.8, you will not regret it. It's only a hundred bucks. You will likely find that it performs great and there is no reason to spend the extra money on the 1.4 version. It's not very often that the cheaper lens has tighter focus, so just save your money. Also, as a side note, if you are purchasing your first DSLR, buy the camera body-only and get this this 100 dollar lens instead of the kit 18-55mm zoom lens.
Here is my honest professional opinion. Buy the 50mm f/1.8–and if you could afford to buy the 50mm f/1.4, don't do it, buy the (review) 100mm f/2.0 instead. Then you would have two great lenses instead of the the one 50mm f/1.4 and you will only have to spend an additional 150 dollars.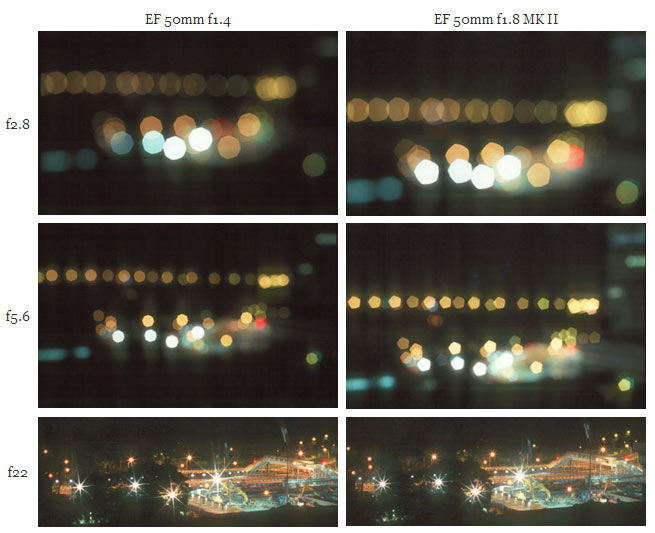 Image from: http://photo.net/equipment/canon/ef50/