A Chicago Inspired Rehearsal Dinner Invitation
A nod to the graphic design of the Chicago World's Fair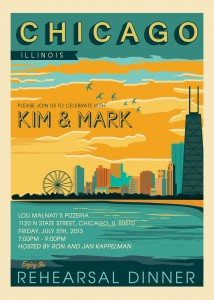 I designed this rehearsal dinner invite for my sister and new brother-in-law's wedding which took place at the Chicago History Museum. I was at the venue with my sister for one of the last meetings – finalizing linens I think, and as we were leaving the museum we saw a poster which inspired the vintage – 20's themed invite reminiscent of posters and flyers from the Chicago World's Fair. Kim and Mark really wanted to play up Chicago wherever they could for their wedding as many of their guests were from Mark's hometown in South Dakota. The wedding was July 6th so many out of town guests came in a few days early to partake in Chicago 4th of July festivities. Check out some photos of the days leading up to the wedding and the gorgeous wedding itself!
The rehearsal dinner went along with the Chicago theme and guests were treated to Chicago style deep-dish pizza at Lou Malnati's on State Street in the Gold Coast. Amazing service there – super attentive staff – especially considering it was a PACKED on a Friday summer night in Chicago. Highly recommend hosting an event there.
All in all, it was a fun-filled amazing wedding week! So happy to be a part of it! Congrats again to Kim and Mark!
I created a couple other pieces for Kim and mark to out in their hotel gift bags. One was a card loaded with information of must-dos and sees for guests while in Chicago such as museums, baseball games, good eats, bars and breweries, etc). Plenty to do in Chicago.
The second was a simplified timeline with visual icons to give guests an idea of how the day would unfold. Also, reminding them to "promptly" arrive on time…