Our County Line Orchard Wedding Invitations

Personalized, Custom Designs by Jamie Pabst | County Line Orchard
The best thing my husband ever taught me was 'don't reinvent the wheel'. Look around for inspiration. This is how I start every project. I create an 'inspiration' folder, surf and save. There are so many resources on the web, you're sure to find a style you like or an idea to spark a starting point. In fact, you may find too many things that you like. Remember, you don't need to use everything you find on one project. You'll surely be having or throwing another party of some sort down the road where you can refer back to your digital bag of tricks. Take bits and pieces from the items you choose to save, combine them, tweak them to create your own custom style. I think it adds a nice, sophisticated touch to keep fonts, colors, logos, icons, etc consistent throughout your design project.
This project in particular was very near and dear to me – pretty much as personal as it gets – because it was for our own wedding! I discovered a few helpful hints along the way that I'd like to share with you. Maybe they'll help you develop your own custom designs!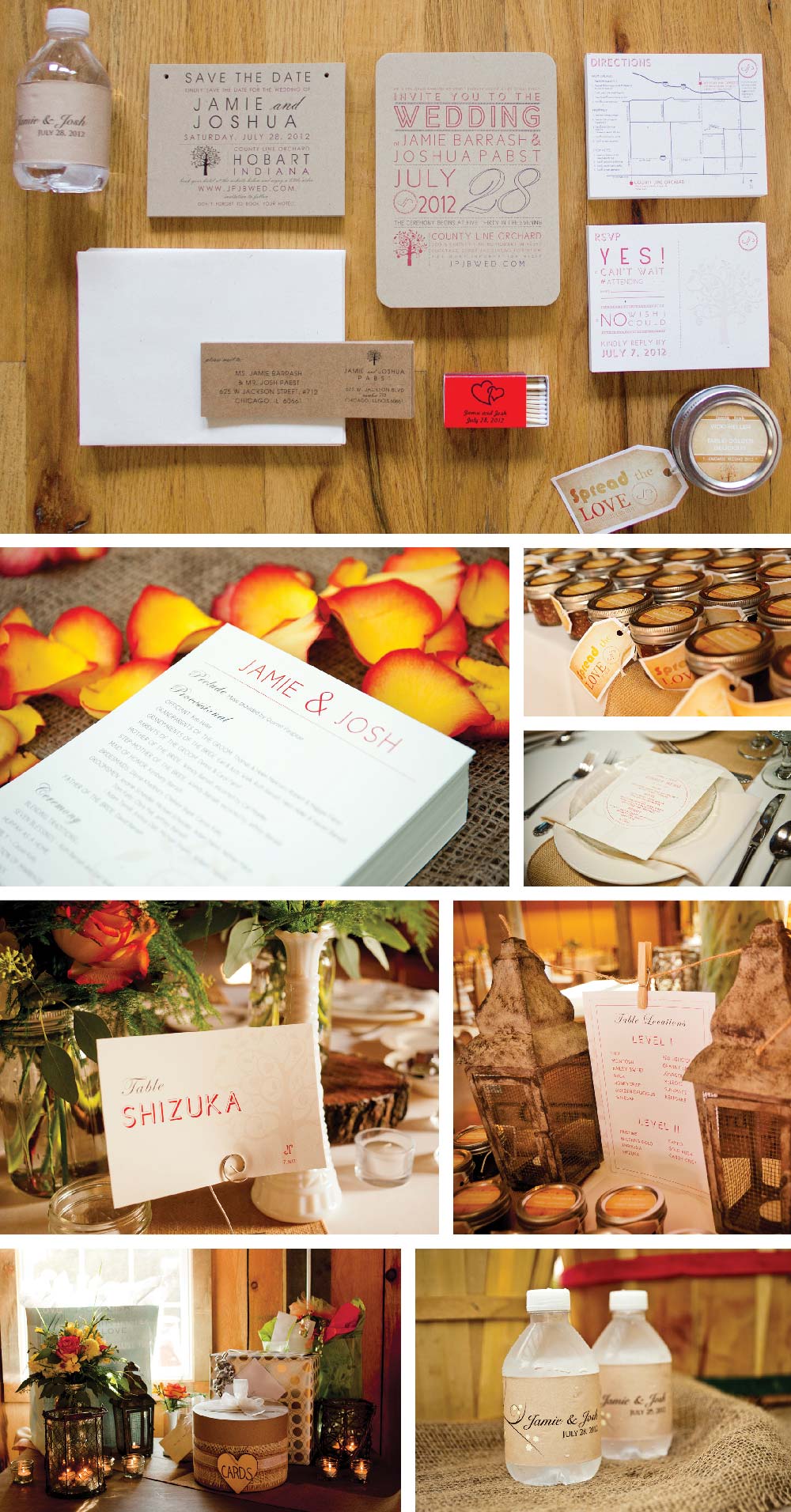 A.  Logo | Design a logo to stamp your invitations with a small, personal touch. Try using your initials, the wedding date, or an icon consistent with your theme.
B.  Response card | This was a fantastic discovery, which I have to admit was not intentional, but it turned out to bring in fantastic unexpected surprises! If you can afford it, leave empty space on your response card. We received lots of short messages along with accepts/regrets which make for great keepsakes!
C.  Fonts + Typography | I'm always frustrated when I see a design I like, but have no idea what the font is. There needs to be a font recognition app! If I knew how to make an app, I would, but I don't, so I'm going to share my fonts with you in case you're interested. I've literally spent hours and hours sifting through fonts to find one that foots the bill.
D.  Interactive |  A fun touch – make your designs interactive. We chose to put a word search on the back of our program to entertain early arrivers. It was also a way to add another personal touch in that the searchable words all have special significance to us.
E.  Letterpress | Letterpress is an awesome way to make your invitations stand out. It can make a simple design more complex or make a playful design a little more formal. It literally gives your design more dimension. I used Flywheel Letterpress located in Freeport, Illinois. Dan was great to work with, super nice, helpful and informative (side note: he also makes delicious honey!).
F.  Timeline | This piece was not completely necessary, however, since basically all of our guests were from out of town, I wanted to provide as much information as possible (without confusing people) to make sure everyone knew where to go and when to be there. Plus, it turned out pretty cute (wink). These timelines were placed in the hotel guest gift bags.
G.  Table names | Table names are another great way to add a personal touch or carry out a theme. Since we got married at an apple orchard, it seemed too obvious not to use apple names!

A few additional ways to add your own personal touches are in the details. If you have the time and some money left over in the budget, the possibilities are endless. Since we got married on a hot summer day, we provided small water bottles (with custom labels) to our guests during our outdoor ceremony. At the reception, we had a cigar cart outdoors paired with match boxes with our names, wedding date and colors along with cocktail napkins at the bar. Another great way to make your wedding day your own, is to incorporate photography in your decor. All you need are some clothespins  twine, and photos of you, your friends, and family. Easy breezy.
Cliche as it may be, our wedding day truly was the best day of our lives. A lot of planning and work went into it, but we think it made the day that much more special. If you're currently in planning mode and feeling a little stressed, I can't stress to you enough – it's SO worth it! If you'd like to catch a glimpse of our perfect day at County Line Orchard you're welcome to check out our wedding video!
Thanks to the day of wedding photos by Bowersock Photography! They took beautiful photos, and captured all of our custom wedding designs in action.